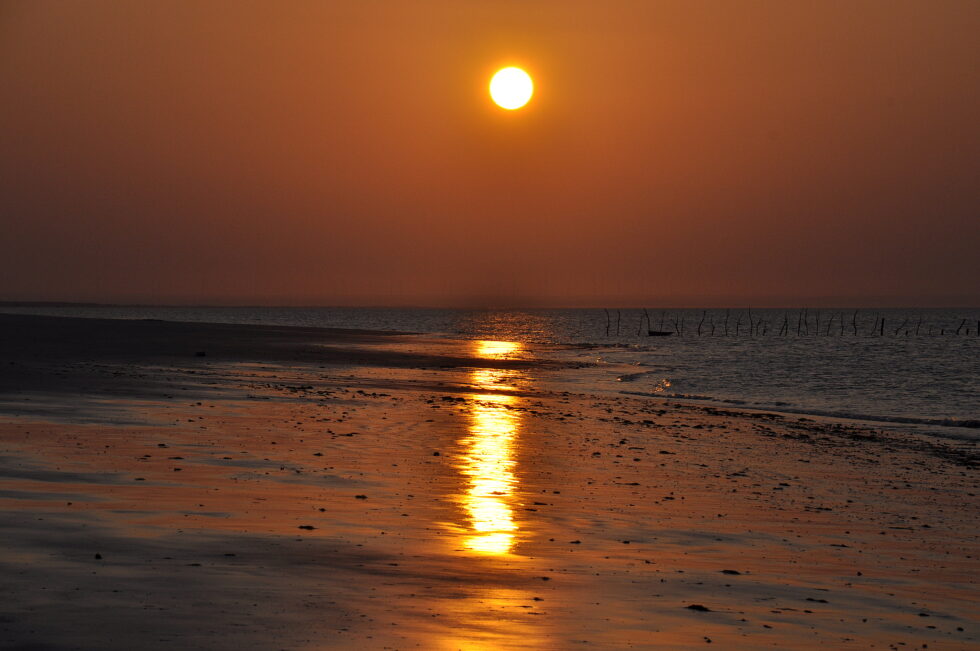 No sleep, instead conversation in my head. Got up, went to the village, bought an Aquarius, took some pictures and went on. Eight years ago the asphalted road ended at the end of the village, this was still the case. Time and technology, evolution and development were yet to come to beyond the village. I was wrong. Technology had come; in form of wind energy farms.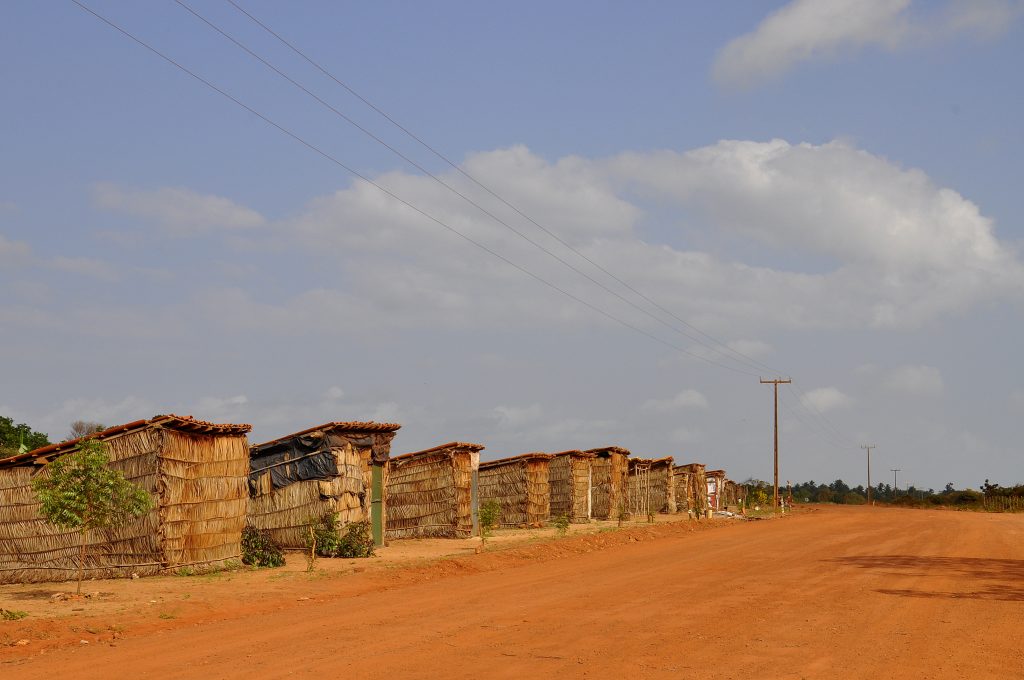 Obviously I wanted to stay as close to the ocean as possible, on the other hand I did not want to put the Volkswagen Polo too much to its limits, so gravel road, sand road and no road signing were a tough challenge to the car, to my state of mind and my feelings. My stomach had this uncomfortable strange feeling that you do not like, that you hate.
Please click on "View Album" to see pictures in a Google+ Album.
I felt a little bit like Don Quijote fighting the windmills while I was driving to Praia do Marco. Wind energy, tower after tower, winding in the wind, bringing energy to one and money to the other.
Praia do Marco was the fisher village that I quite liked when I visited it first, the outpost of real estate boom and one of the places who claims for the Portuguese to have set foot first onto the South American continent.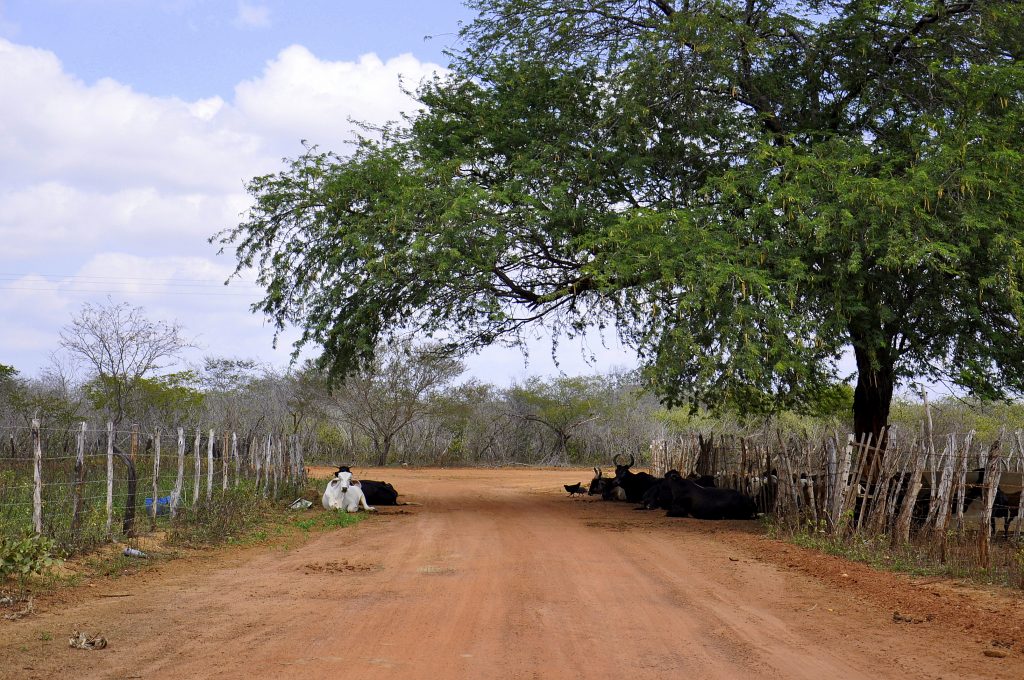 Due to road conditions or lack of even gravel roads I had to drive a little zig – zag. No sign posting, in the middle of the desert, no orientation, no village, not even a single house to ask for the right way.
If I did not have had that feeling before, I might have gotten scared. But my mind was somewhere else anyway; there was no space for fear at all.
Please click on "View Album" to see pictures in a Google+ Album.
Finally I followed a motorcycle driver that I caught up in the distance and made it back onto an asphalted road. The road I knew too well, the road from Natal to Macau.
I had now plenty of time for memories. I drove to the beach of Macau, it was weekend, but it was quite and that was good so. The last thing I would have wanted now was Forro, Forrozão or Forrozinho.
The beach was empty and the beauty, the memories and the upcoming sunset made me go for a beach walk. The sunset was amazing, the mixture of low tide, little leftover water on the beach, perfect clear sky and the bright sun.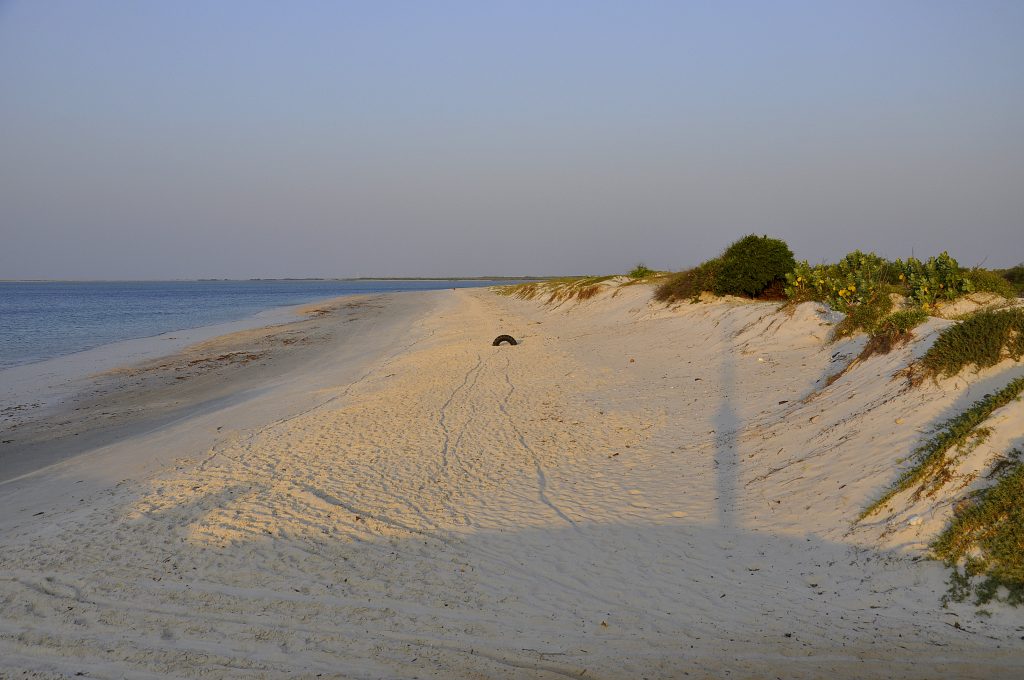 What a highlight, because with the sunset over, I felt Macau, Pendencias and Bebê. Sadness.
Kiss me hard before you go
Summertime sadness
I just wanted you to know
That, Bebê, you're the best
I'm feelin' electric tonight
Cruising down the coast goin' 'bout 99
Got my bad Bebê by my heavenly side
I know if I go, I'll die happy tonight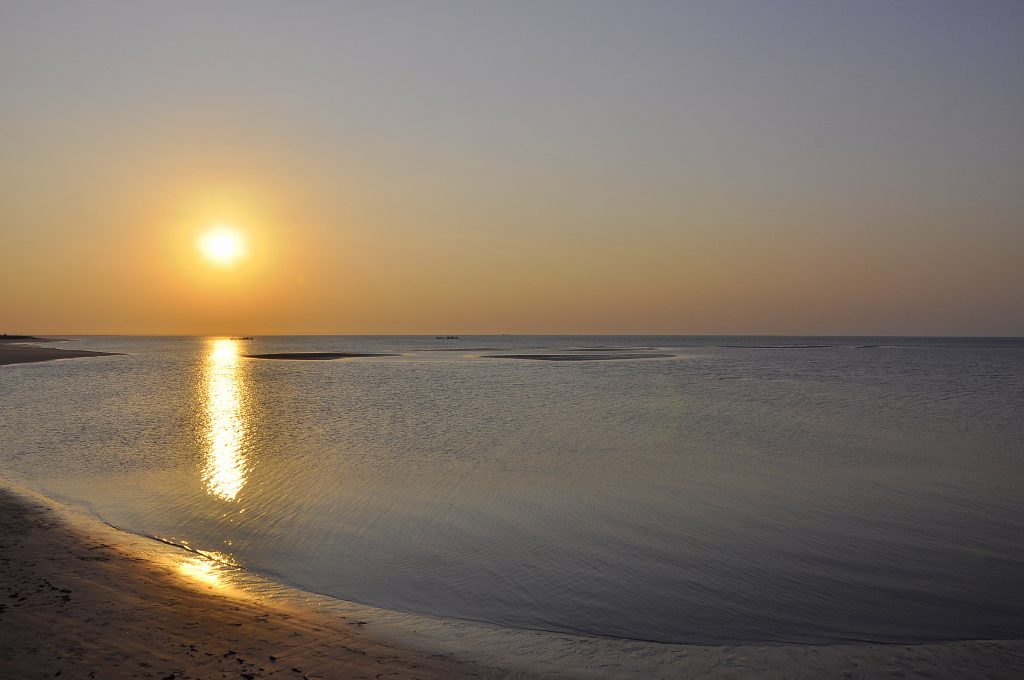 For a small understanding of the days travel, I have included a Google Earth map. The red pins mark the locations I have stopped and taken pictures. At the bottom of the page you will find a link for all the pictures I have taken. The link will open in a Google+ Album.
Please click on map to enlarge!!!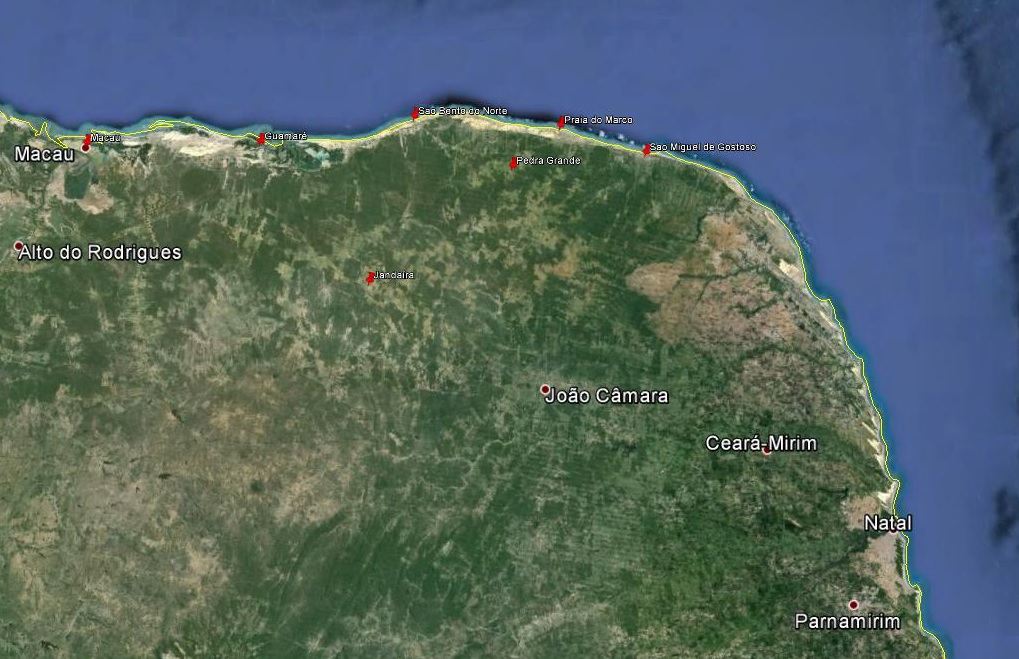 See map and distances / Siehe Karte und Entfernungen / Ver mapa e distâncias / Ver mapa y distancias
25,0 km               Praia do Marco
41,0 km               Pedra Grande
70,0 km               São Bento do Norte
120,0 km             Jandaira
170,0 km             Guamare
210,0 km             Macau
Please click on "View Album" to see pictures in a Google+ Album.