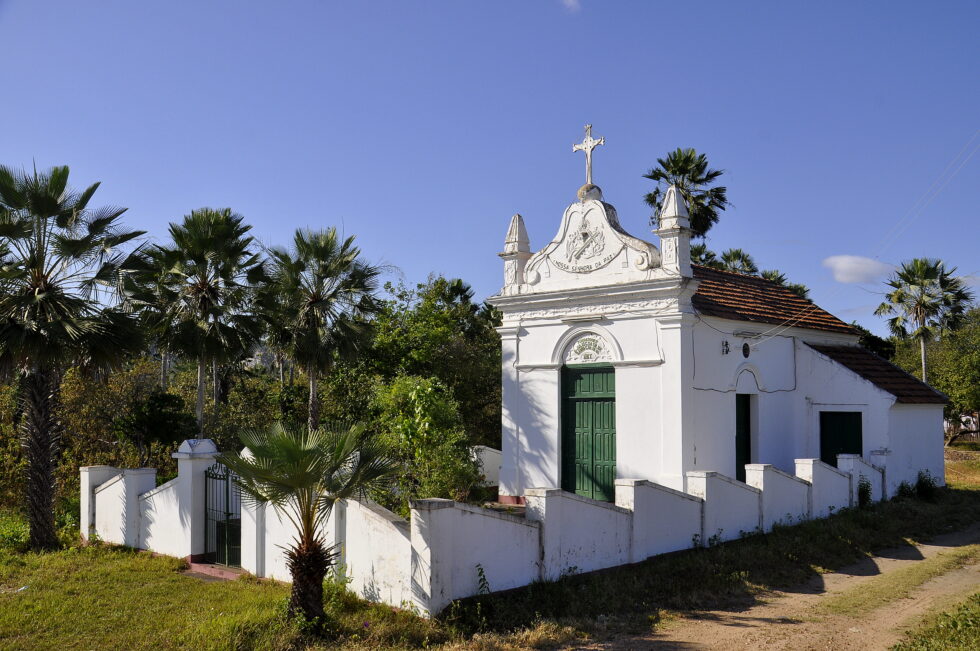 I had not intentions, no spirit and no enthusiasm to actually enter the mega-city of Fortaleza. Not only because I have been in Fortaleza before. My refusal was more because after so much silence and peace in the desert of the northeast of Brazil, I was simply not ready, I did not want to. I already had very bad and little sleep. Now l wanted to Enjoy the Silence and the nature itself a little bit longer.
I was right, as actually the drive from Fortaleza to Jericoacoara is a very panoramic drive. You would want to do that definitely prior to noisy, ugly, heavy traffic from any mega-city. You have a perfect change of different types of northeastern nature and feel the emptiness of the desert and the enormous distances of this big, huge country Brazil.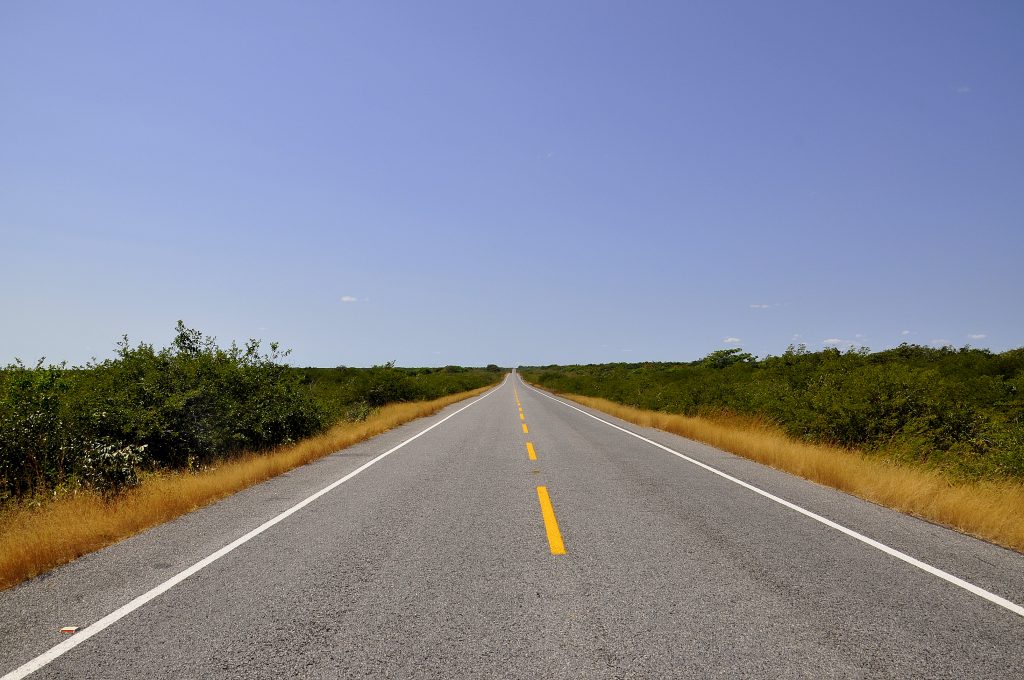 I arrived early, due to the fact that I woke up early and started early. Remember 'Shit happens', now within a few days 'Early happens' has become a routine, normal. And what was 08:00 hours in the morning once has simply moved forward to 06:00 hours without your permission, without any buearocracy, had sneaked in rather quickly day by day.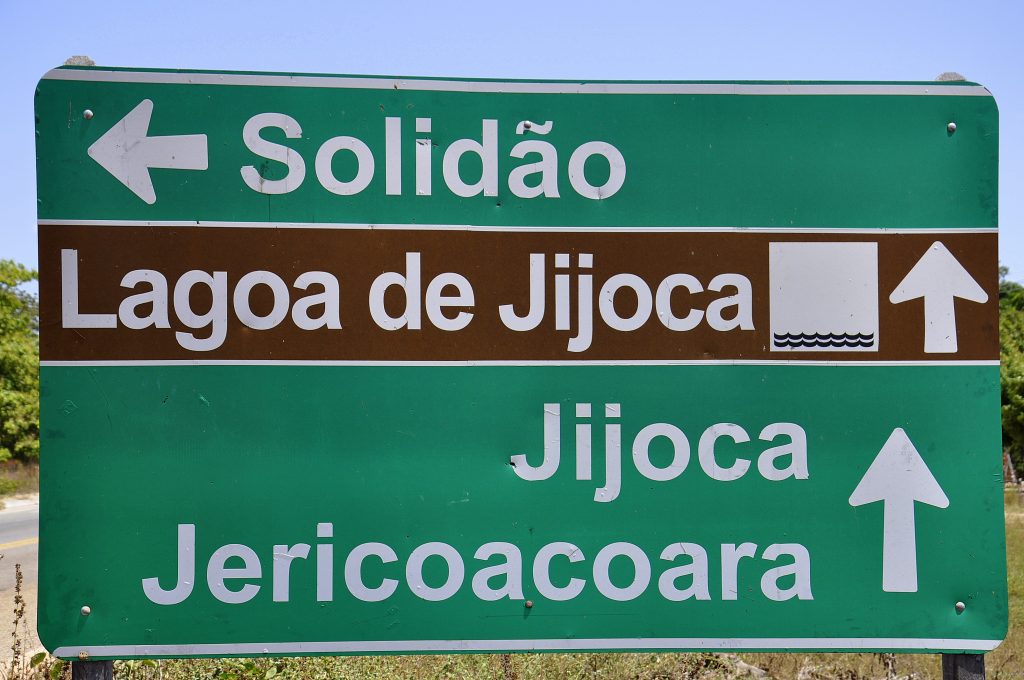 I wanted to work a little and then take a communal taxi to the beach and take some pictures of the sunset, this obligatory happening every day in Jericoacoara, when everybody walks up the dune mountain, finds a spot in the crowd and await the moment, wait if today the sun will actually visibly touch the sea and still be full and strong and golden and orange and red. You can tell, I was here before, so I was not really worried.
I simply did not want to pay a tourist, Gringo price for the trip to the beach and I had a feeling that this would be the challenge of the day. Negotiate, ask around and pick the right driver, the right moment. I mean Brazil was in stagnation, you could feel that everywhere, even in the most popular tourist destinations, so they must negotiate down well. Not today, not AlexK, not you Gringo. Suddenly I thought, do not worry, it is destiny and it is the better choice anyway, going tomorrow morning, spend the full day at the beach, take the sunset pictures and go back.
I could continue working, I had good signal and shady parking in front of Luiza Pizza and time later to find the right spot for the night. I had some place in mind and wanted to visit, so I had passed a better place right at the entrance of the village in front of a Restaurant / Pousada combination with a huge sandy parking and lots of trees, no light but neighbors, to watch out for me. Good night.
Please click on "View Album" to see pictures in a Google+ Album.
For a small understanding of the days travel, I have included a Google Earth map. The red pins mark the locations I have stopped and taken pictures. At the bottom of the page you will find a link for all the pictures I have taken. The link will open in a Google+ Album.
Please click on map to enlarge!!!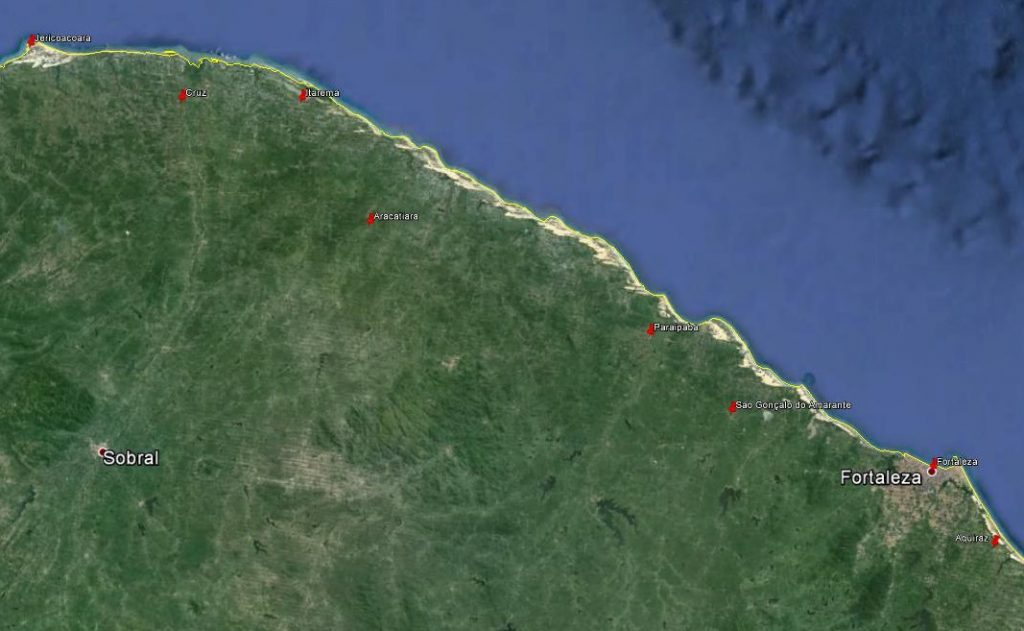 See map and distances / Siehe Karte und Entfernungen
0 km                     Aquiraz
25,0 km               Fortaleza
80,0 km               São Gonçalo do Amarante
110,0 km             Paraipaba
190, 0 km            Aracatiara
225,0 km             Itarema
255,0 km             Cruz
290,0 km             Jericoacoara
Please click on "View Album" to see pictures in a Google+ Album.