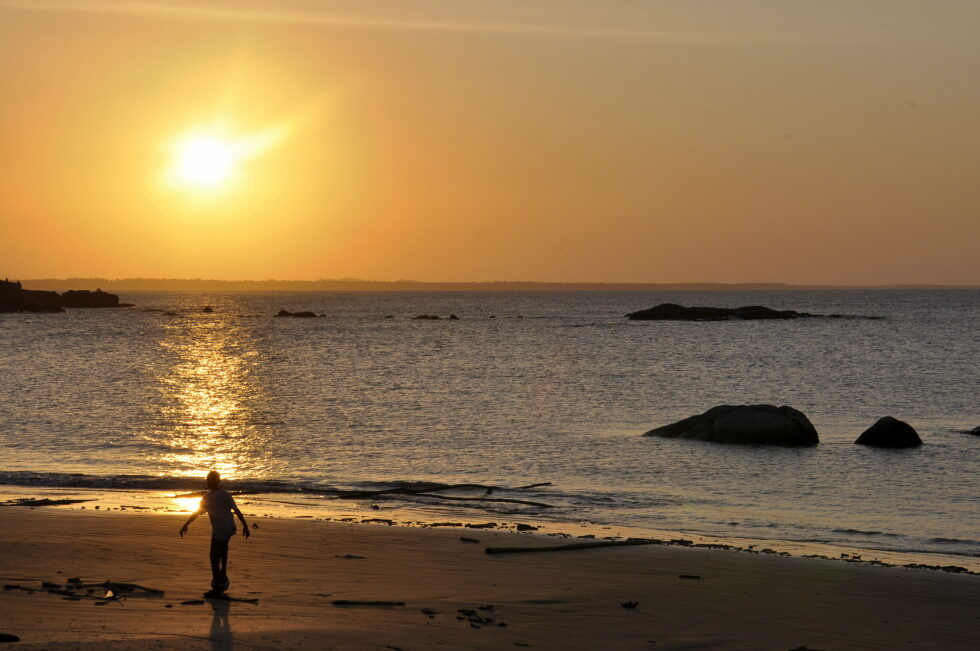 Borders are always critical and decisive to me with respect to the continuation of the planned route. At any border I could encounter any reason for delay or rejection which would result in changing my planned tour. Bureaucracy, documents, my appearance, there are many reasons to create situations. Before departure the owner reminded me of the insurance for the car. I answered that according to my understanding everything was in order. I did not really take any documents from the insurance company and got worried that this could turn into a problem.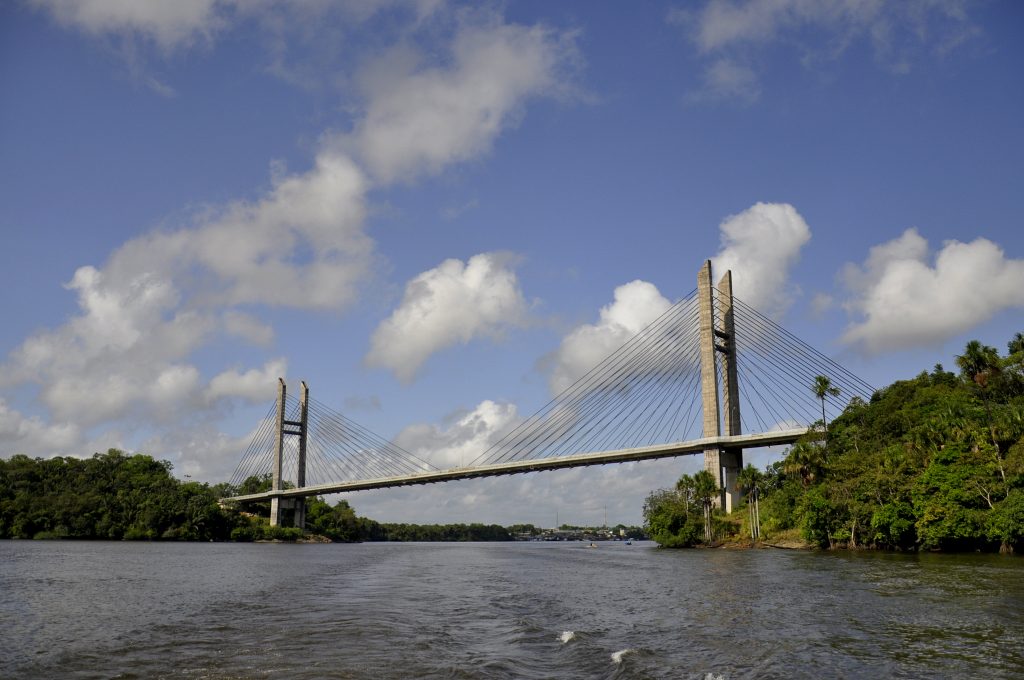 I expected on arrival customs and federal police, but nothing like this. I got off the ferry and drove very slowly to not run straight away into a control and try to analyze the circumstances before. Now I understood as well why the price for the ferry of R$ 280 for a 2 km transport was so expensive. Oiapoque in Brazil was the last village before the border and with a distance of more than 600 km to Macapá and no population in between. The chances for Brazilians to cross to French Guyana were very little whereas a good number of tourists from French Guyana went for the weekend and did some shopping. The exchange rate at the moment was in favor of the Euro. Accordingly the price for the ferry was given in Euro, focused on the client and with to 70 Euro the client was a good, wealthy client.
I waited for some time but did not really see any customs and so I decided to continue the drive up to the capital Cayenne. After about 30 km a mobile custom force had blocked the road and obviously wanted to check the Gringo. No, I am in Europe, we are actually neighbors. I spent an hour waiting for the federals to inspect the whole car and every luggage and box and even the car itself. I answered correctly and at any moment I was expecting the request for insurance documents, which I had very little and therefore a reason to create problems, but it did not happen. I continued with a certain relief.
After about 85 km a regular police station to check my passport. This time it was just a brief stop and go again. I had seen myself already spending another R$ 1000 to go back the way I had come. Not this time, maybe in Surinam or in Guyana. I thought for various reasons that this part of the continent would be the most difficult one due to each countries individual circumstance as well as due to the travel through unpopulated, humid, overheated amazon jungle and amazon riverbeds.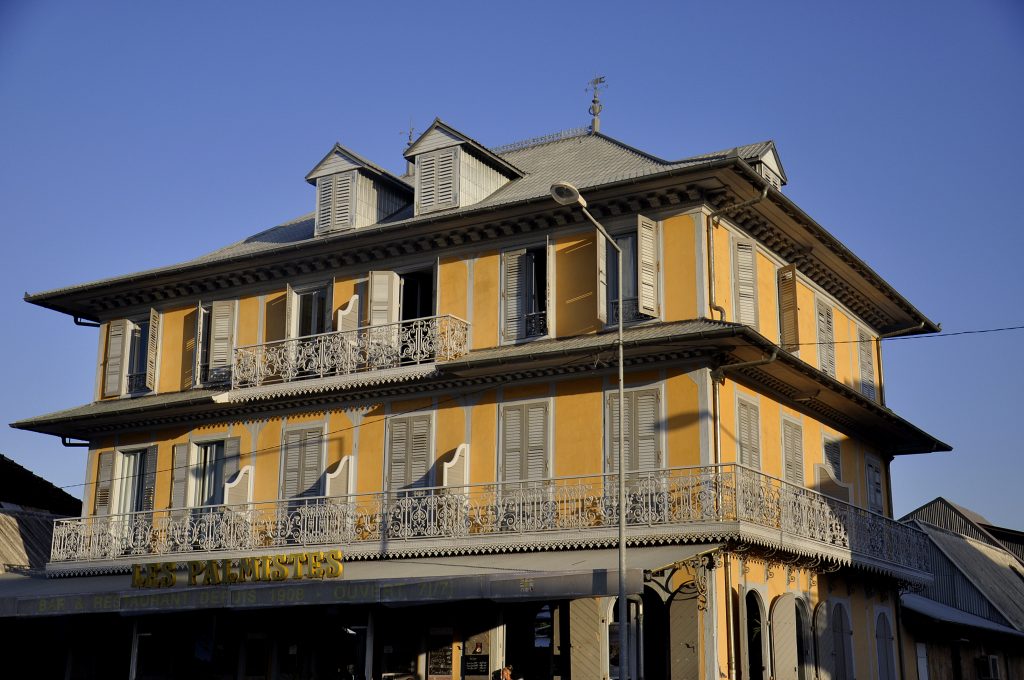 I made the rather short drive of today and arrived in Cayenne. I was in Europe. I had to pay in Euros. The people spoke French, which I actually was curious to learn, not right now in French Guyana but after the whole project. I was thinking maybe in this French department or another French overseas department, Guadeloupe, Martinique or French Polynesia, actually my favorite, to plan the next Project 2018: 365 days on an island before the World Cup in Russia.
For a small understanding of the days travel, I have included a Google Earth map. The red pins mark the locations I have stopped and taken pictures. At the bottom of the page you will find a link for all the pictures I have taken. The link will open in a Picasa album. At the top left of this Picasa album you will find the botton for a Slideshow.
Please click on map to enlarge!!!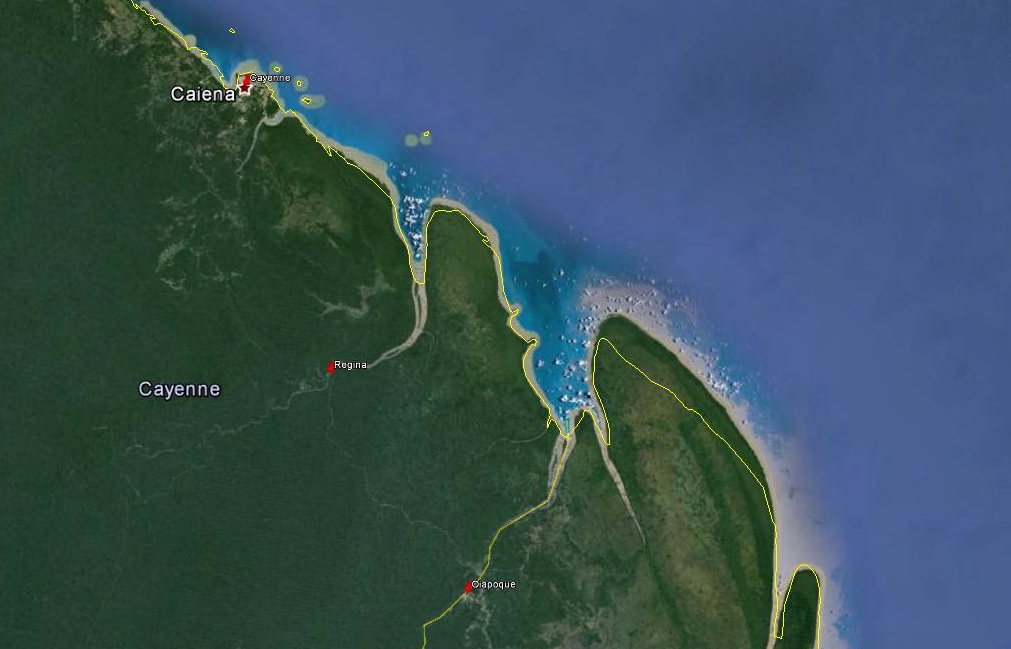 See map and distances / Siehe Karte und Entfernungen / Ver mapa e distâncias / Ver mapa y distancias
0 km                     Oiapoque
85 km                   Regina
200 km                 Cayenne
Please click on "View Album" to see pictures in a Google+ Album.