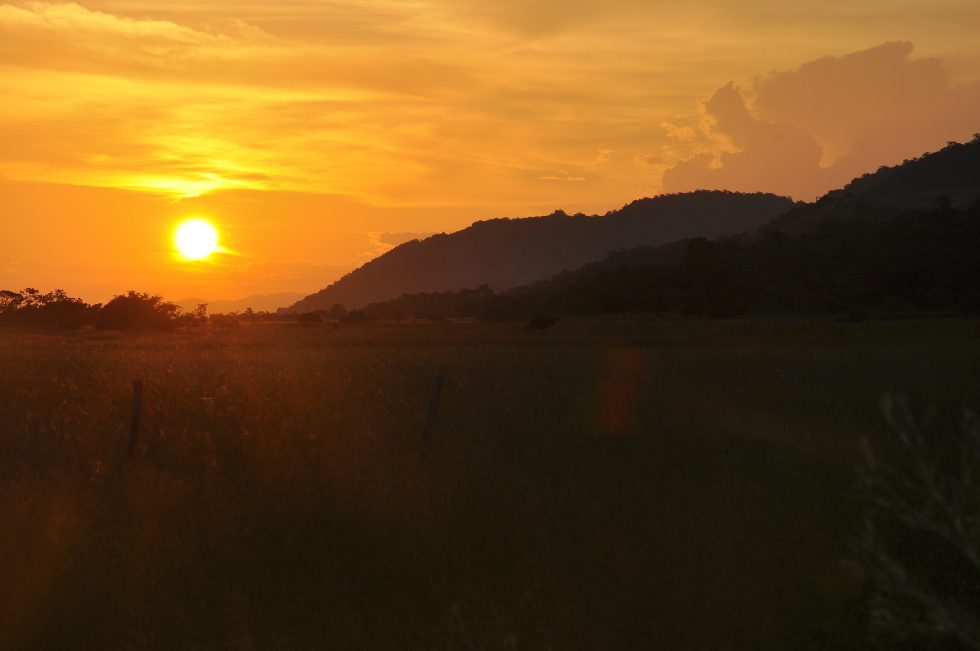 I wanted to take it easy on the difficult part in front of me, the drive for 450 km on gravel road, not knowing the conditions and especially for me driving with a normal car. I wanted to drive just to the city of Linden and talk to local drivers to find out about the road to Lethem, the border city with Brazil. Guyana has absolutely no sign posts and you better ask at every crossing for your way.
Please click on "View Album" to see pictures in a Google+ Album.
I forgot one crossing and ended up at the international airport. I had to go back about 10 km and at the most obvious turning I asked a lady for the correct way to Linden. She offered to go with me for about 20 km and I dropped her off on this sunny Sunday morning at work. I was on the right road and had to pass a police station. My papers were definitely in order, still the officer asked me for a little help for himself and his college.
I arrived early in town and asked for information. I spoke actually to a salesperson and one driver. The salesperson wanted me to go with a driver and was insisting that my car was too low. The driver gave me a chance to make the drive but also wanted to try for me to take a private taxi van. Due to a strong El Niño this year the northeast of the continent had very little rain and the roads were already pretty dry. Mud was my main concern. I would not get more information than I received from my first two contacts and decided to start the tour and find out bit by bit myself.
I crossed the bridge leaving town and straight away the asphalt turned to reddish gravel. Yes there were wholes, leftover water lakes, washed away parts, broken trees and cars. I did not encounter anything really scary, nothing that I had not seen already on this trip in the state of Pará, Brazil or on previous trips on the Transamazonica.
Part 2 – Part 3 – Part 4 – Part 5 – Part 6 – Part 7 – Part 8 – Part 9
The bad conditions were all the way, every inch of trip and I had to use all my concentration and skills in order to not put the car at risk. I met cars, trucks and vans on the way that were not so lucky and had to change a wheel on a sandy or wet surface. I need skills and luck but I continued kilometer by kilometer.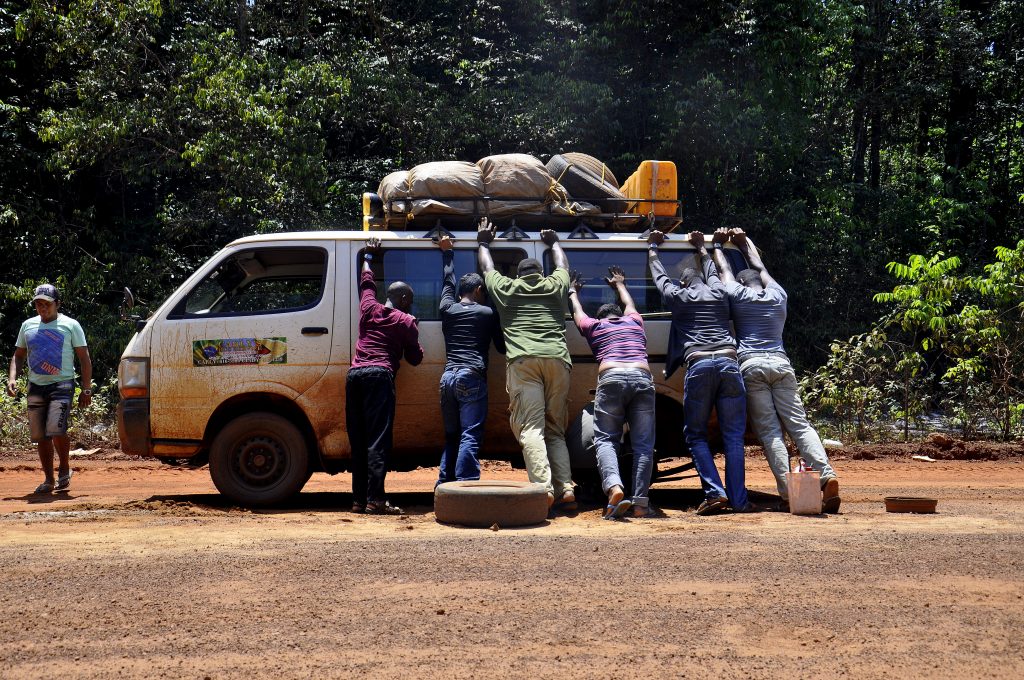 I made it half way to the first and only village of maybe 20 to 30 houses. I had to stop at the police station to present documents and for the second time today the officer asked me for a little help for himself and his college and for the second time I paid for a drink. Opposite the police station was another small hut with another man waiting. I thought this was the college and he would open the gate after receiving signal to do so. I was wrong and it turned out that this man was charging toll for the muddy road. With certain disbelief and a certain smile I paid and continued.
Please click on "View Album" to see pictures in a Google+ Album.
The next surprise was a ferry crossing. The gate was closed and you needed a ticket. The sign post said that you had to buy the ticket in Geogetown but this was luckily not the case and asked for the price. 7000 Guyana Dollars, too much for my budget. They did not accept foreign currency. Guyana creates a problem but offers the solution. I had to go back a kilometer to the restaurant/shop/gas station/exchange office and change Brazilian Reals to Guyana Dollars. The Indian lady exchanged without any problems and I could go back, pay and take the ferry.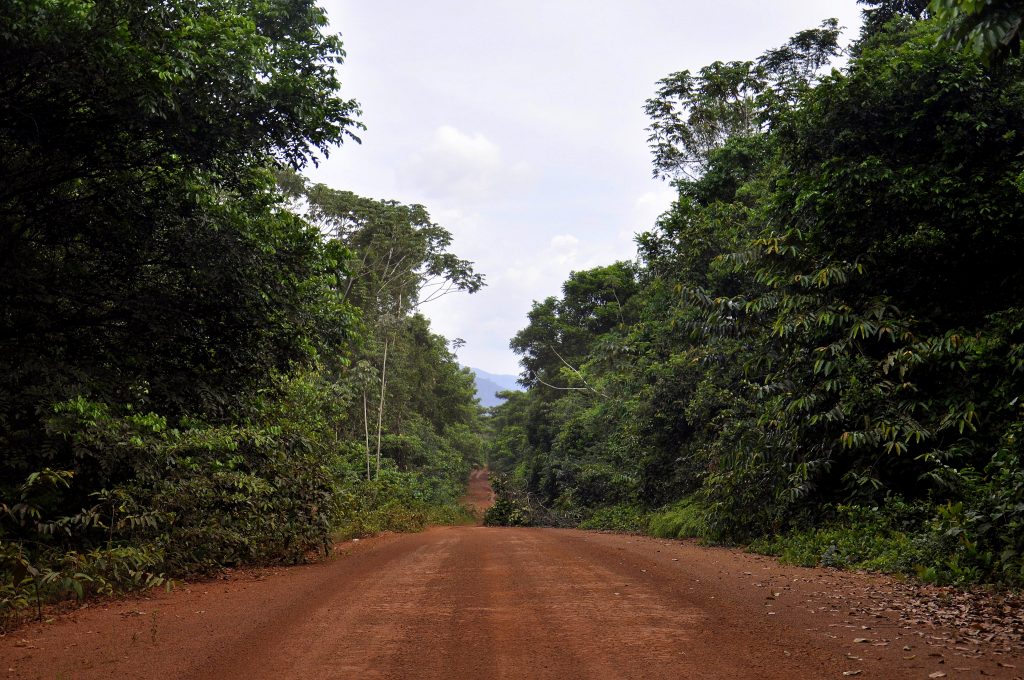 Another hundred kilometers and the rainforest stopped and a vast open flat grass area began. I continued to drive along this beautiful landscape and into the beautiful sunset and made it to Lethem.
Please click on "View Album" to see pictures in a Google+ Album.
For a small understanding of the days travel, I have included a Google Earth map. The red pins mark the locations I have stopped and taken pictures. At the bottom of the page you will find a link for all the pictures I have taken. The link will open in a Google+ Album.
Please click on map to enlarge!!!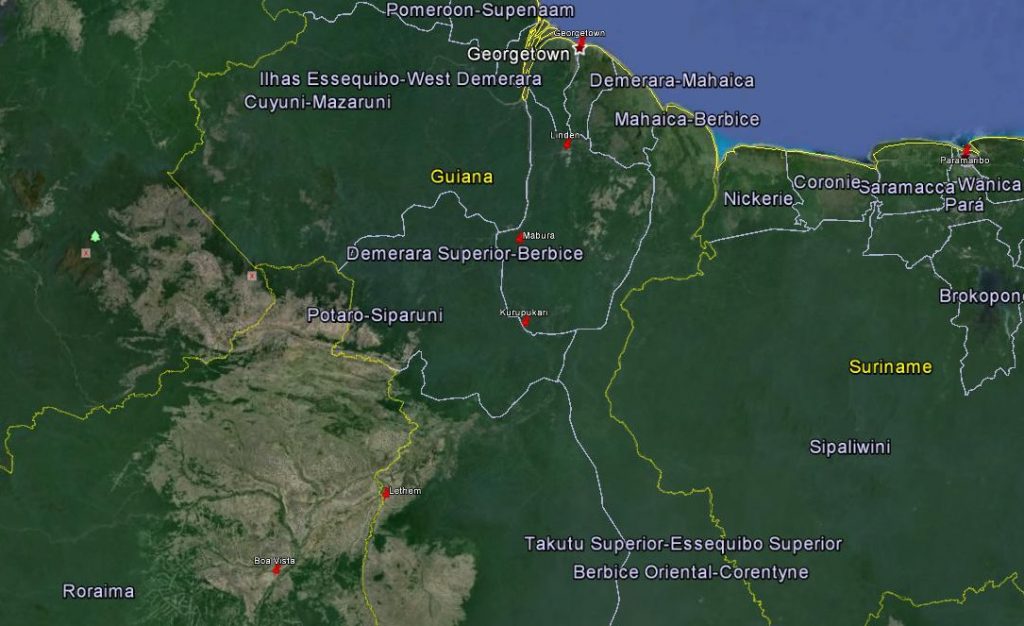 See map and distances / Siehe Karte und Entfernungen / Ver mapa e distâncias / Ver mapa y distancias
0 km                     Georgetowm
125 km                 Linden
250 km                 Mabura
350 km                 Kurupukari
565 km                 Lethem
Please click on "View Album" to see pictures in a Google+ Album.