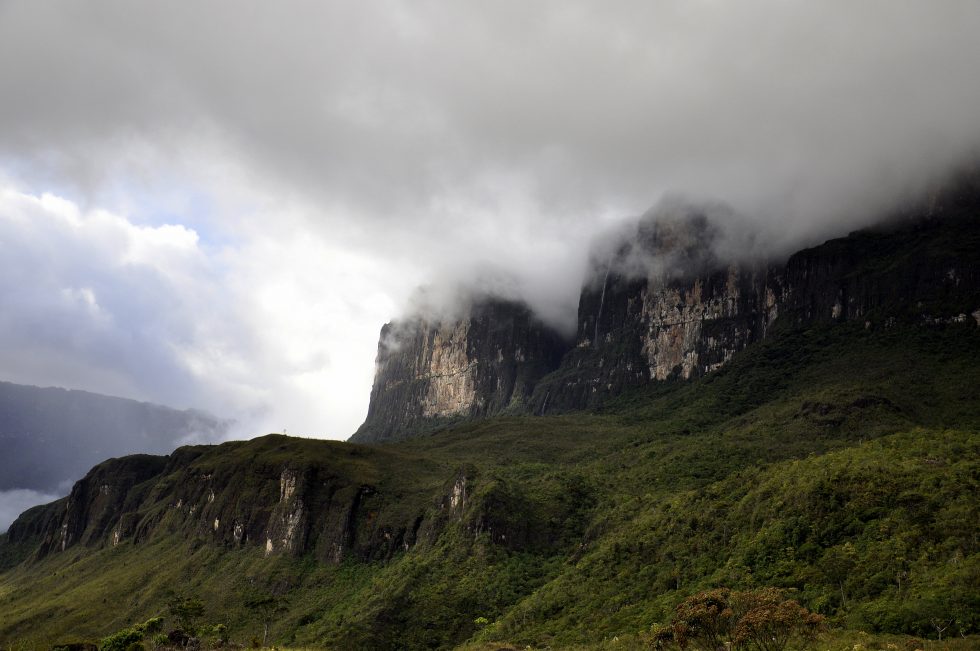 My first night in the tent was calm; my tent had been a good buy, good quality, light, waterproof and easy to build. I had rested and was hopeful for the day. I built off my tent and was ready, breakfast was not, and I had to be patient and wait.
After two hours everything and everybody was ready and we even had time for the group photo that we had not taken yesterday. Picture taken and the group started to move, two hundred meters down to the river Tek and the group stopped. Everybody had his own technique and procedure to cross the river, Gregory recommended leaving on socks to not slip on the wet stones.
Please click on "View Album" to see pictures in a Google+ Album.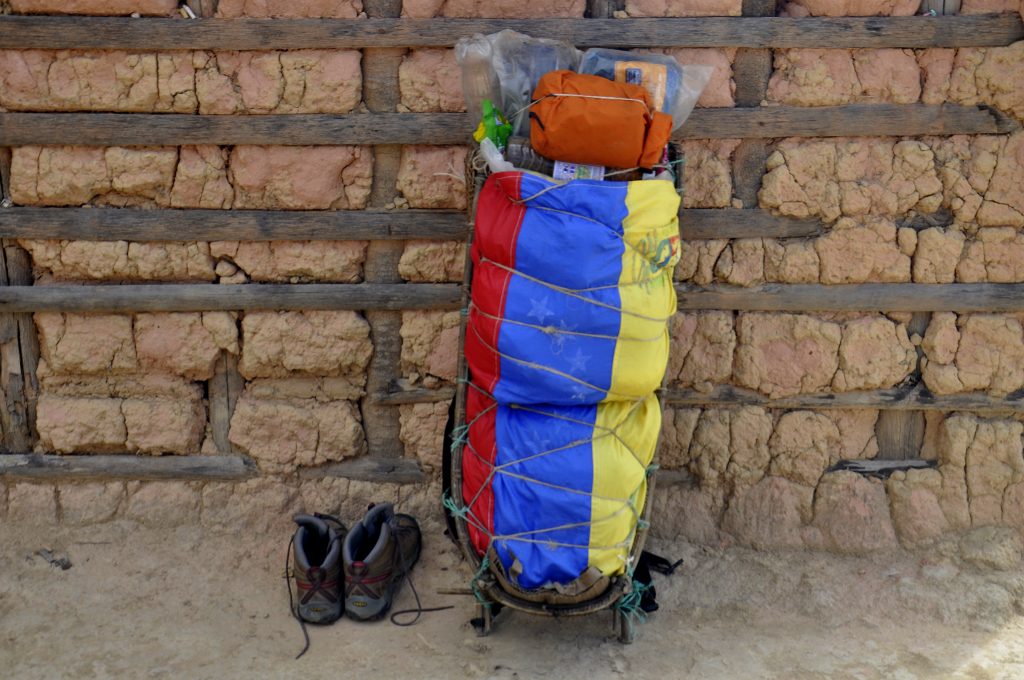 I was tired of waiting, I lost patience, barefoot I was first to cross the river, quickly dried my feet, socks back on, shoes back on and back on the path. The two carriers did not even bother to take off their shoes; they did not even have socks and were now a bit ahead of me. The track was going up the hill and the inclination was as bad as the "test hill" from yesterday only twice as long. I reached the peak and the path was unfortunately going downhill towards the next river; going down just means that you have to go the same way up at some point.
Please click on "View Album" to see pictures in a Google+ Album.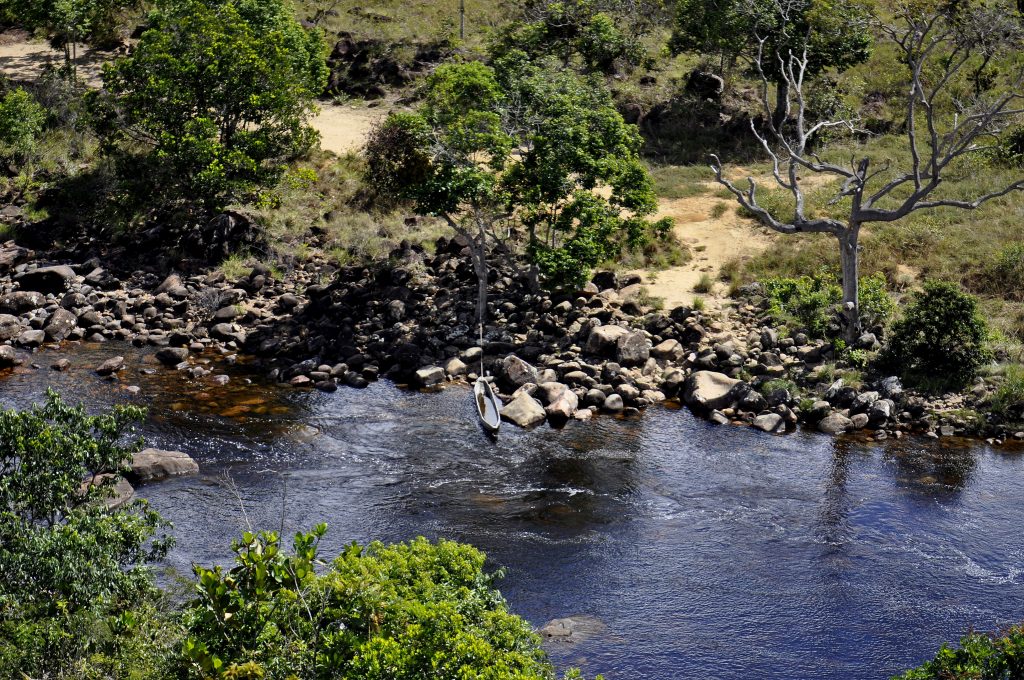 The carriers and I reached the river Kukenan, wider and deeper and with less stones to step on than the river Tek. Same technique recommended; the carriers crossed the river, I was right behind them to see the best steps and moves and followed.
On the other side of the river was the other half way camp, more or less two kilometers distance from our camp. The carriers had a break and waited for the group; I could not wait anymore, could not wait any longer and walked up the next hill. The hills now had more or less the inclination of the test hill from day one. I had to gear down and needed more breaks to catch my breath.
Please click on "View Album" to see pictures in a Google+ Album.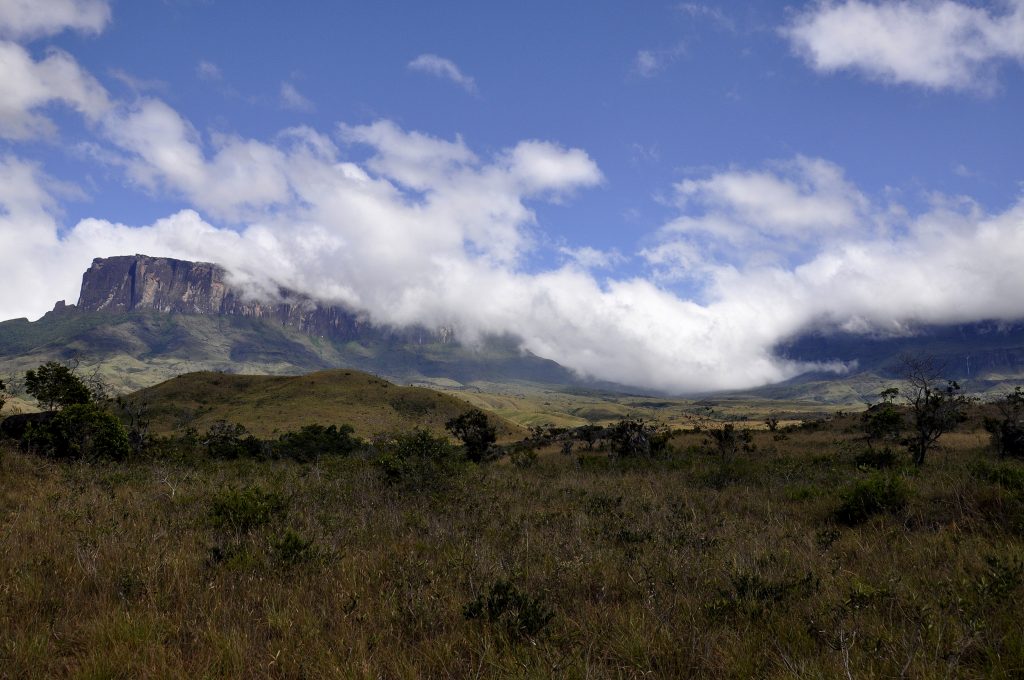 The weather was perfect, sunny with a few clouds, a fresh wind and temperature around twenty degrees and getting lower bit by bit the higher you came. The inclination was constant and that was my main concern.
I had already geared down from third to second and had to gear down at some points now even to first gear. I had already breaks every five hundred meters and needed now breaks every two hundred and fifty meters. I had already breaks of three minutes and needed now six minutes. Mentally I was perfect, physically I was weak and on the path I was struggling.
Please click on "View Album" to see pictures in a Google+ Album.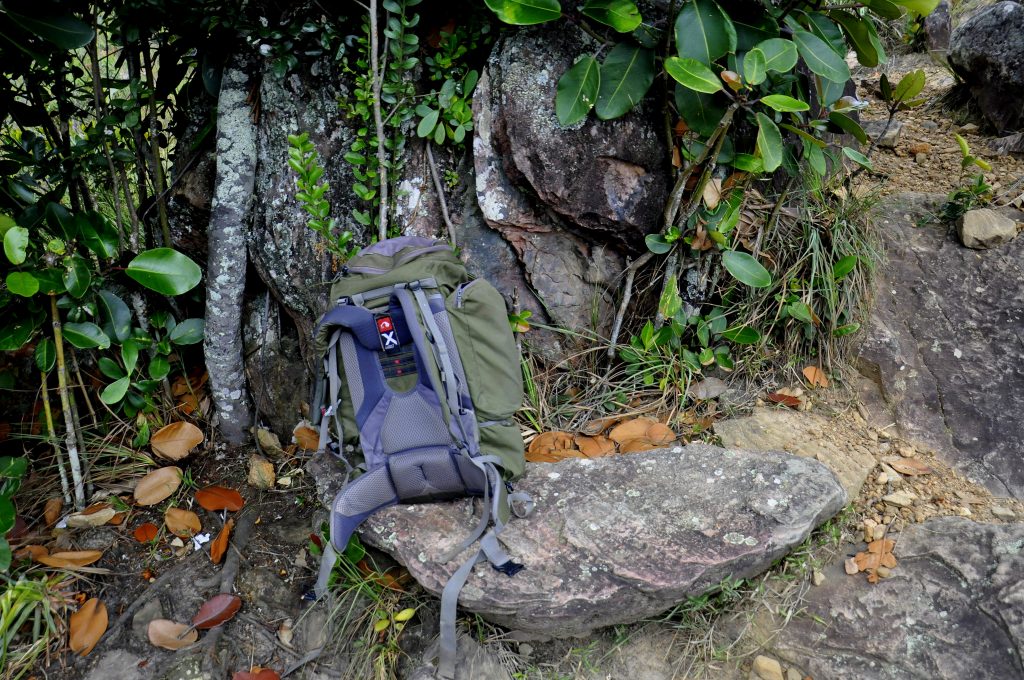 Team Enterprise passed me easily today. They had paid respect to my speed yesterday but today I could not gear up or reduce the number of breaks. This was not a group race this was your personal race and at the end everybody was walking by himself and for himself, everybody had his own technique, own rhythm, amount of brakes, amount of food and his own personal problems.
Your personal problems again had their own rhythm and had highs and lows along the path. My body was suffering but I reached the base camp at the foot of Mount Roraima. I needed half an hour rest to catch my breath before I was ready to build my tent next to the wild berry tree.
The group was extremely stretched and arrived one by one; it was already getting dark and I went into my tent and into my sleeping bag. I had to recover the best way possible for tomorrow. Diet kept. Day two was mortal.
Please click on "View Album" to see pictures in a Google+ Album.
Group Gregory
Operator – Gregory
Guide – Omar
Cook – Cleidymar
Cook – Keila
Carrier – Julian
Carrier – Jesus
Doc McCoy – Alejandro Izaguirre
Chekov – Yanjos Ave
Uhura – Maria Jose Lopez
Rammstein – Omar Rivas
Dreamcatcher – Joselyn Godoy
Photographer – Gianfranco di Campo
Journalist – Mariolga Gomez
Ecuador – Juan
Belgium – Sylvie
Guacharaca – Claudia Valenzuela
Guacharaca – Yolanda di Sevo
Guacharaca – Yuli Viloria
Gringo – AlexK
Please click on "View Album" to see pictures in a Google+ Album.